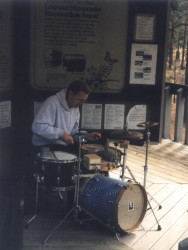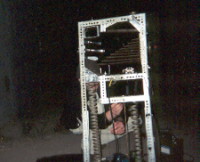 (2001) new things- contact mic entire kit, more effects (pitch shifter, phase shifter, echoplex) - finally bought a mixer
many more gigs, some acoustic, some electronic, some both -different workings with different setups
form percussion trio NOD - bringing improvising, found percussion, and homemade instruments together
different sampler perspectives, more samples, sampling myself, also MD and CD to thicken the plot, mostly other solo gigs, home recordings or NOD rehearsal tapes
more smaller cymbals, sometimes gong, much better pick in the box, more junk metal, etc., used to extend the kit, placed on the drums or used to play the kit,
more attention payed to wood (ala the 3rd construction), different shakers, need to find lower wood instruments
still the red kit, 4 piece w/ two cymbals and hi hat, starting to use double pedal
mounting cowbells and woodblocks, bell cymbal
still deciding on a common setup (or do i want to be different every time?)
why am i using the same kit i use on jazz gigs?
begin to play with everything on the floor
redone frame, welding rods up top, more small springs and mounted cymbals
building mallets - different shapes of wood, smaller metal beaters, etc.
very interested in different relationships between wood, skin and metal (varese)
more extended techniques with each different beater,
still digesting Plimley and Bendians outlook on time
better flow, need more attention to development
better interaction between acoustic and electronic
finding it easier to integrate solo concepts in group music
12 steps - 12 concerts in 12 months, as a means for more steady development and playing - interested in different settings for concerts (art galleries, freeway underpasses, coffee shops, deserted mountain roads, rock clubs, parking structures, museums, etc.) maybe even concerts for nobody listening……..
longer time frames not working, playing solid sets and finding that each gig is shorter - must simplify and get to the heart of the matter.